Commercial Remodeling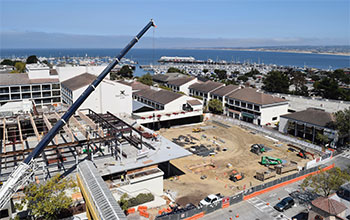 For commercial remodeling in Salinas, California, choose Ausonio Inc and experience a truly streamlined building process. In the business world, there is a lot of talk about dressing for success. This philosophy can apply to your place of business, as well. We are the design and construction company that can help you put your best foot forward with your business facility.
One Company From Start to Finish
If you are updating and remodeling an existing facility, Ausonio, Inc is the company to call for your business construction needs. Unlike most commercial builders, we offer the design aspect of your project, as well as the construction component, under one roof.
Most business owners seeking commercial remodeling are looking for the most efficient design for their facility. Why not go with the commercial construction company that offers the most efficient building process? Designers, architects, engineers, and builders work together, reducing mistakes, trimming costs, and saving time for the business owner.
Commercial Remodeling and Tenant Improvements
Ausonio, Inc offers a wide range of remodeling improvements. For over 50 years, we have served California's Central Coast, producing buildings in various fields such as medical, hospitality, agricultural, food processing, and many more. Whatever your industry, Ausonio has the expertise to create the working environment you need.
We Can Meet Your Needs
As a commercial tenant, you have the unique task of making an already existing interior space function for your particular business needs. Our designers have the experience behind them to assess the area and create an efficient, functional floor plan. Our builders will then put those plans in place. You really can fill all your needs with Ausonio.
Custom Reception Area
Lighting
Flooring
Offices
Build Outs
Bathrooms
Break Rooms
Commercial Experts
The construction of a business site is very different than residential builds. With our decades of experience in commercial construction, we can assess your needs and advise you in the most efficient and cost-effective building design for your company. Our LEED accredited consultants stay up to date with the latest techniques in commercial construction, and our builders have the training and skills in industrial remodeling necessary to create an efficient, beautiful working environment designed especially for your business.
Call Us Today
Let the experts at Ausonio Inc in Salinas, California, make your commercial remodeling project everything you envision for your business. Contact us today to set up an appointment and discuss your project.