General Contractor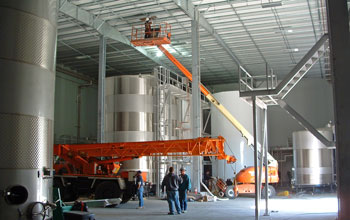 Ausonio Incorporated is an expert general contractor, assisting with commercial construction needs in Salinas, Monterey, San Benito, and Santa Cruz Counties for decades. We are a licensed and insured commercial contractor capable of running construction projects efficiently and handle the entire process from design to build in house.
Coordination Is Key
Projects that involve building or remodeling are extensive, and anything can go wrong without an experienced general contractor involved in the project. Even a simple home remodel or repair may require the services of electricians, framers, plumbers, and painters. Coordination is key during any project.
Decades Of Experience
We take care of construction permits, site security, site management, coordination of local and state site inspection, project schedules, cost review, and supervision of daily construction activities. We coordinate with specialty subcontractors and we oversee the project until it's completed.
Superior Service At A Fixed Cost
One of the main advantages of hiring us is that your project will be completed at a fixed cost. We assume a certain amount of risk when offering our services at a fixed price.
If the project takes longer to complete or we run into unforeseen difficulties, then it is our financial burden and not our customer's burden.
If there are any issues or details that you want to be addressed regarding your project, you only need to contact our company as your one point of contact. This eliminates the confusion in dealing with multiple subcontractors.
Keeping Construction Projects On Track
We work with our customer's existing plans while incorporating our own design ideas that are typically cost-effective. We select specialty subcontractors, in addition to our own crew, to ensure that all projects we are working on are performed only by experts. Regardless of the tasks at hand, we make sure that all aspects of our customer's projects are on track.
Bidding & Budgeting
We are methodological in executing the plans of our customers' construction and remodeling projects in accordance with the contracts. This includes labor, budgeting, materials, and equipment. We bid out any potential construction or remodeling job in predetermined packages and our extensive cost histories will help us verify the bids.
Staying On Schedule
During the duration of the project, we manage and oversee the daily activities including quality control, safety, and adherence to the schedule. We are highly experienced in performing many aspects of the project, which allows us to have great control over the project's schedule.
Commercial & Industrial General Contracting
Our company's quality craftsmanship, efficiency, fair pricing, and honesty have helped us remain one of the leading commercial and industrial contractors in Monterey County.
Get An Estimate Today
If you are in need of construction management, green building, LEED consultant, design-build specialist, architectural design, or general contractor services in Salinas. We serve Monterey, San Benito, and Santa Cruz counties, so please feel free to contact us for any projects and find out how we can help you. Request a consultation today.