Tenant Improvements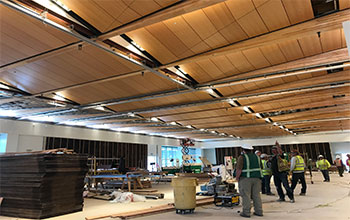 If your commercial tenants are looking to make tenant improvements, our designers and construction specialists at Ausonio in Salinas, California, can help. We have the expertise to help you with the design of your project as well as all of your construction needs.
Tenant Improvements Made Easy
Whether you're making simple improvements, major or minor office renovations, or constructing offices in a vacant warehouse, Ausonio can make the space function for your customized business needs. Our designers can assess your space and work with you to provide an efficient and desirable floor plan. Our construction professionals will then put those plans into action. Ausonio has experience working with tenants and landlords to customize spaces in a variety of settings or situations, including:
Bars
Building Alterations
Government Buildings
Hotels
Offices
Restaurants
Retail
Warehouses
Need A Break Room?
If your previous tenants weren't set up quite the way your new ones need to be, our experts can help design the perfect space. If you need to include a break room to your space or even improved lighting, we've got you covered. We can make improvements or alterations to any workspace, some options include but are not limited to:
Bathrooms
Break Rooms
Build-Outs
Custom Reception Areas
Flooring
Lighting
We Work Closely With Landlords And Tenants
Ausonio understands that tenant improvements often have specific requirements, such as staying in line with agreed-upon changes to the interior of commercial buildings made between a tenant and the landlord. If your landlord-tenant agreement is already in hand, we'll work with you to construct your space, such as walls, floors, stairs, bathrooms, offices, lighting, and heating and cooling, among other features. If your options are still open and you have yet to work out the details with your landlord, we can step in and help you do that, as well. Commercial building projects are our specialty and we're ready to make your dreams come true with high-quality tenant improvements.
Take Care Of Your Tenant Improvement Needs Today
For efficient, budget-friendly tenant improvement construction in Salinas, contact Ausonio today. We love what we do and we're looking forward to hearing from you and learning how we can help you make your design and building project come to life as a tenant at your rental property. Our design and construction professionals are waiting for your call—contact us today.