Bank & Credit Union Construction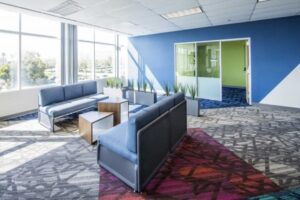 Ausonio is your local California bank builder based in Salinas. We manage bank and credit union construction projects across California's Central Coast. Our construction company specializes in commercial projects, and our team has decades of experience working on institutional and government buildings.
Experienced, Professional Bank Contractors
When you're looking for a bank builder, you don't want to settle for the first contractor you find who has worked on a bank before or who knows how to install advanced security features. You want a remodeling company that cares about your business and brand and who will work with you to realize that vision in your building.
Realizing Your Unique Vision
No two financial institutions are exactly alike since each offers different services to their customers. One branch may want to focus on drive-up teller windows with pneumatic tube systems. Another may provide safe deposit boxes and night depositories to their customers.
Brokerages
Check Cashing Stores
Community Banks
Credit Unions
Loan Centers
Retail & Private Branches
State Banks
Tax Offices
The Benefits Of Remodeling
Like any other business, every bank has its perspective on change. You might have concerns about construction crews disrupting your regular routines. You may be skeptical about whether it's worth investing in renovations and a credit union builder.
The truth is that any bank can benefit from working with a remodeling contractor to revitalize their space.
Complete your conversion project with a visual transformation.
Update your security.
Redesign your space with clear traffic flow and increased efficiency.
Add new back-end facilities to expand your business offerings.
Create a unique look that attracts your target clientele.
A Construction Company That Understands
We understand that bank design is a balancing act. A credit union contractor has to prioritize your business' primary concern — security — while creating an inviting environment for your customers. Depending on your security needs, your general contractor and crew may require specialized skills, such as welding, bulletproofing, and working with electronic/magnetic locks and ballistic glass.
Balancing Security & Convenience
Many credit unions achieve balance by creating an open-plan lobby with private offices and meeting rooms branching off of it. Commercial contractors know several tricks for hiding what customers don't need to see or access within a cohesive interior design.
For example, currency lockers can be built into the teller's counter, and partition walls can break a visitor's line of sight to the vault. Our contractors will help you find the best way to balance convenience and security in your space.
Schedule Your Consultation Today
Let us help with your California bank or credit union construction project. Contact us today to request your consultation. Tell us a bit about your financial institution and what you're looking for in a remodel. Learn more about our process and get answers to any questions you might have about working with Ausonio.