Cold Storage Construction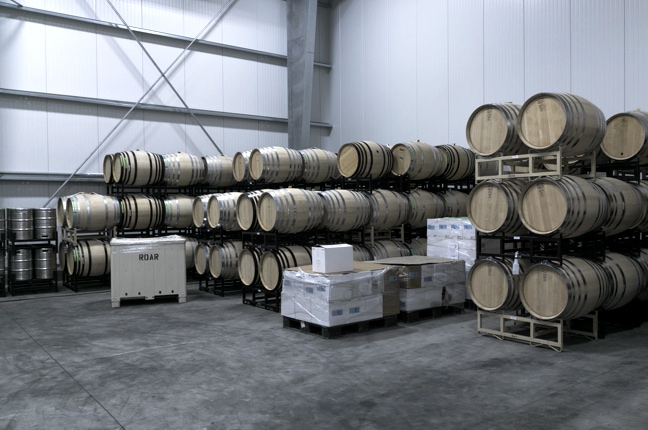 If you need a commercial contractor for your refrigerated warehouse and cold storage construction project, call Ausonio in the Salinas California area. A refrigerated cold storage warehouse is more than a big, empty building with a powerful HVAC system.
Building a cold storage facility requires forethought, engineering, and top-grade construction materials. A design and build process is the best approach for solving these problems, and with Ausonio, you're partnering with an award-winning team of commercial construction experts.
We Know Cold Storage Construction
Just like your refrigerator at home, refrigerated warehouses need thick insulation to keep the cold air inside. You might want to divide the building into separate areas that are set to different temperatures. So, thermal barriers must be established to prevent wasteful heat transfers. 
You probably want your cold storage facility to be energy efficient. Good design takes into account things like economic power consumption and the need for backup generators to preserve your products during a power outage. 
You'll also want your construction company to be aware of the critical requirements necessary for good business. For example, will your structure need to meet government standards, like USDA guidelines, to make sure your products stay pure and fresh?
So Many Industries Need Cold Storage
While the majority of cold storage spaces are built to store food, food industries aren't the only ones who use them. Below are some businesses, facilities, and industries who could make use of cold storage or temperature regulated warehouses.
Agricultural Storage

Beverage Industry

Chemical Processing

Clean Rooms

Convenience Stores

Food Processing

Distribution Centers

Medical Storage

Pharmaceuticals

Restaurants

Supermarkets
The Benefits Of Design & Build
We have perfected our design and build process over our five decades of service as a commercial general contractor. We team up with owners and architects to provide single-source responsibility for each unique project.
The advantage of this method is control over the quality of materials, quality of the work, and your overall costs. You won't have to manage dozens of contractors and sub-contractors to handle the framing, plumbing, electrical work, and all the rest. We have crews to do all of those jobs.
Each construction project comes with its share of obstacles that are difficult to predict. With our team leading you each step of the way, we can innovatively navigate these challenges to eliminate needless delays and surprise expenses.
Cool Things Down, Today
We invite you to trust us at Ausonio to build your refrigerated warehouse or cold storage facility. Contact our Salinas construction company today to get started. Tell us a bit about your business and your project, and we'll match you with one of our qualified construction experts.