Park & Recreation Construction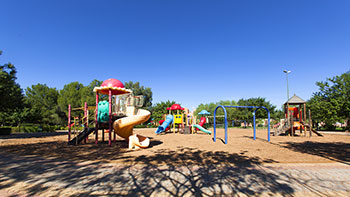 Ausonio of Salinas, CA, is the smart choice for your next park and recreation construction project. We offer over five decades of experience in all types of commercial construction. Our LEED consultants are leaders in their field. If your community or company requires safe, attractive, and resiliently constructed recreational facilities, then let our knowledgeable team help to make your vision a reality.
Places To Work, Play & Grow
Ensure children have safe, functional, play environments. Add outdoor spaces for the people in your community to gather or for the athletes in your midst to hone their craft. Let our park and recreation design specialists help you to plan new parks and recreational facilities or improve upon existing ones. These are a just a few examples of the parks and rec construction projects we look forward to helping you with:
Playgrounds
Promenades
Gymnasiums
Athletic Fields
Sports Complexes
Arenas
Pavilions
Swimming & Diving Pools
Indoor Recreation Centers
New Construction Vs. Renovation
When it comes to parks and recreation construction, knowing when to repair is just as important as knowing when to rebuild. Our approach to facility restoration and repair is unique. We strive to give property owners, municipalities, and managers long-term confidence in their existing facilities by using a combination of innovation, quality craftsmanship and decades of experience to augment the upgrade or restoration process.
Adding Recreation Facilities
Adding a recreational feature to existing construction via a renovation will bring in elements of excitement and interest. Bring natural light and a sense of serenity to the center of your office by including an atrium. Or, add some aesthetic charm and functionality to the town center by adding a civic space for a park with grass and trees, fountains, ice skating, and stages. Whatever the project's scope we will design and build to the same exacting standards that our company has used for the last fifty years.
Your California Parks & Rec Builder
With a reputation for customer service and award-winning quality, you can rest easy knowing your parks and recreation construction project is in the hands of Ausonio. We look forward to helping you breathe life into your California community spaces. Contact us today.