Multi-Family Builder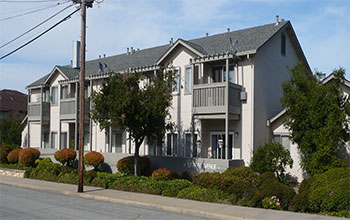 If you are looking for a world-class multi-family builder, look no further than Ausonio of Salinas, CA. With us, you can experience the benefits of quality, cost-control, and expertise. We call it the Ausonio Advantage. Our award-winning team includes in-house design and brings years of experience to your multi-family construction project.
Multi-Family, A Rising Trend
More people are choosing to live in apartments, condos, and townhomes than ever before. The driving demand for multi-family projects is increasing as millennials look for living space that builds community and provides amenities. The latest developments in design and construction of multi-family projects include things like shared workspace, fitness centers, and intuitive shared community space. Ausonio's professional design team has their finger on the pulse of the latest living trends, which means your new construction project will feature sought-after amenities and perks that renters and buyers are looking for today.
Our Glowing Reputation
We have a reputation we are proud of as a multi-family builder – one of quality and integrity. Whatever development project you have in mind, we have the experience to bring it to life. Here are just some of the multifamily projects we can build:
Condominiums
Apartments
Townhomes
Age Restricted Housing
Mixed-Use Shopping/Living
Student Housing
Low Income Housing
Urban Infill Projects
Making use of dwindling urban space is something Ausonio wants to be a part of. As land becomes scarce, we see urban infill as a path to creating not only dynamic multi-family building opportunities but a chance for mixed-use construction and neighborhood revitalization. Combining living, working, and entertainment space in areas that are often overlooked is construction "recycling" we can get behind. People need housing near where they work, and urban infill is a unique and often beautiful way to meet the growing need for living space.
Let's Get Building, Together
As your local multi-family builder, serving you from Salinas, CA, at Ausonio we know the unique demands and current trends that will make your project a success. You can count on our decades of experience and our Ausonio Advantage. We succeed when you do. Contact us today so we can begin work on your next building project.